One question has come up at all four of the book launch events since Open Borders came out Oct. 16th: what can I do to prevent nuclear war? The question is slow to surface as audience members old enough to remember begin to relive the frightening times in Seattle in the 1980s when children were practicing duck and cover in their classrooms and bomb shelter signs appears on the walls of buildings downtown.
What can one do? Get involved in the anti-nuclear weapon movement through Washington Against Nuclear Weapons WANW, Washington Physicians for Social Responsibiltiy, Earth Care not War Fare and Ground Zero to name a few. Find their next meeting on the calendar under the menu tab "calendar".
Where does the money come from to keep the nuclear war machine going? Following the money may be the most effective way to reverse current policy. The International Campaign to Abolish Nuclear Weapons recently published a study revealing the money path. I encourage you to take a look at their findings. One darling of personal finance and family investment (my husband and I began building our nest egg with a $25 a month contribution back in the 1970s) is Vanguard. In fact, I just counseling my grandson to begin his investment program with a Vanguard account and promised to match his monthly contributions. I was shocked and dismayed to find Vanguard in the top ten of the companies investing in nuclear weapons.
ICAN executive director Beatrice Fihn: "If you have been wondering who benefits from Donald Trump's threats of nuclear war, this report has that answer. These are the companies that stand to profit from indiscriminate mass murder of civilians. We grow less safe while they cash in on chaos by banking on Armageddon."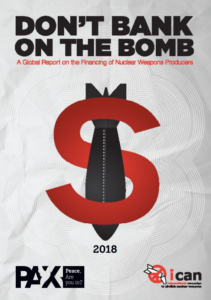 What can I do to prevent nuclear war? Call your broker. Then write to the company after you pull your money out and explain why you have left them. Even if your account is only a pittance, your opinion will sting, register a welt that burns the skin. Enough of these welts make even a very large company uncomfortable. Perhaps even uncomfortable enough to change.
PAX
Betsy
Summary
Article Name
what can I do to prevent nuclear war
Description
Open Borders book launch audiences want to know what they can do to prevent a future nuclear war. Follow the money to see who invests in nuclear weapons. Take action with organizations that work to reduce nuclear weapons such as WANW, WPSR, ICAN
Author
Publisher Name
Epicenter Press: Open Borders
Publisher Logo